Freestyle is a designated time frame for figure skaters who have completed the Learn to Ice Skate program and now take Freestyle private lessons or classes. This time is for sharpening skills, perfecting routines, and prepping for tests and competitions!
Freestyle Time Requirements:
Must pass level "Delta" in our Learn to Ice Skate Program

Learn to Skate Students may skate during freestyle ONLY with a private coach!

Must sign in and pay in the pro shop prior to taking the ice!

Skaters who take the ice before paying will be asked to exit regardless of any scheduled lesson times.
Freestyle Pricing Options: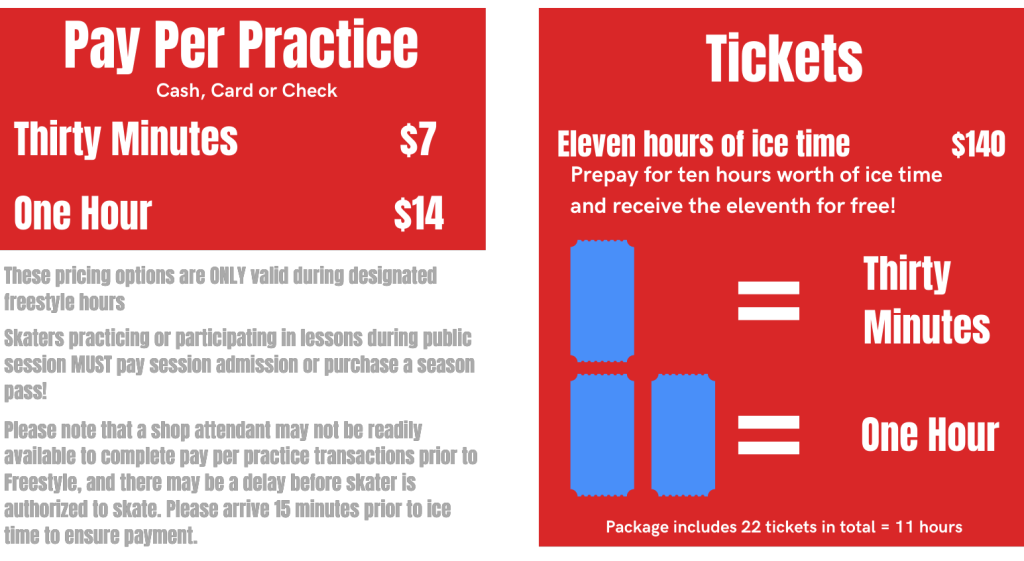 Freestyle Class:
Our Freestyle Class is designed for skaters who have completed our Learn to Ice Skate program and are looking to learn more about edging, turns, single jumps, and basic spins. Classes are from 5pm-6pm on Wednesday Evenings from September to May. The first 30 minutes of class is a warm-up skate and the last 30 minutes is instruction time. The enrollment fee is a flat rate of $80 per month and includes a season pass for the corresponding month.
---
Not quite ready for freestyle level? Get started in our Learn to Ice Skate Program!