Behind every great parent is a great kid, so let us give them the celebration they deserve! Whether you're planning a small birthday celebration with your closest friends or a larger private event, we are ready to bring your special occasions to life with our roller skating and ice skating parties.
Party Package Options
Celebrate your special day at the Arkansas Skatium with the Ultimate Roller and Ice skating experience! These birthday parties are offered during our public skating times.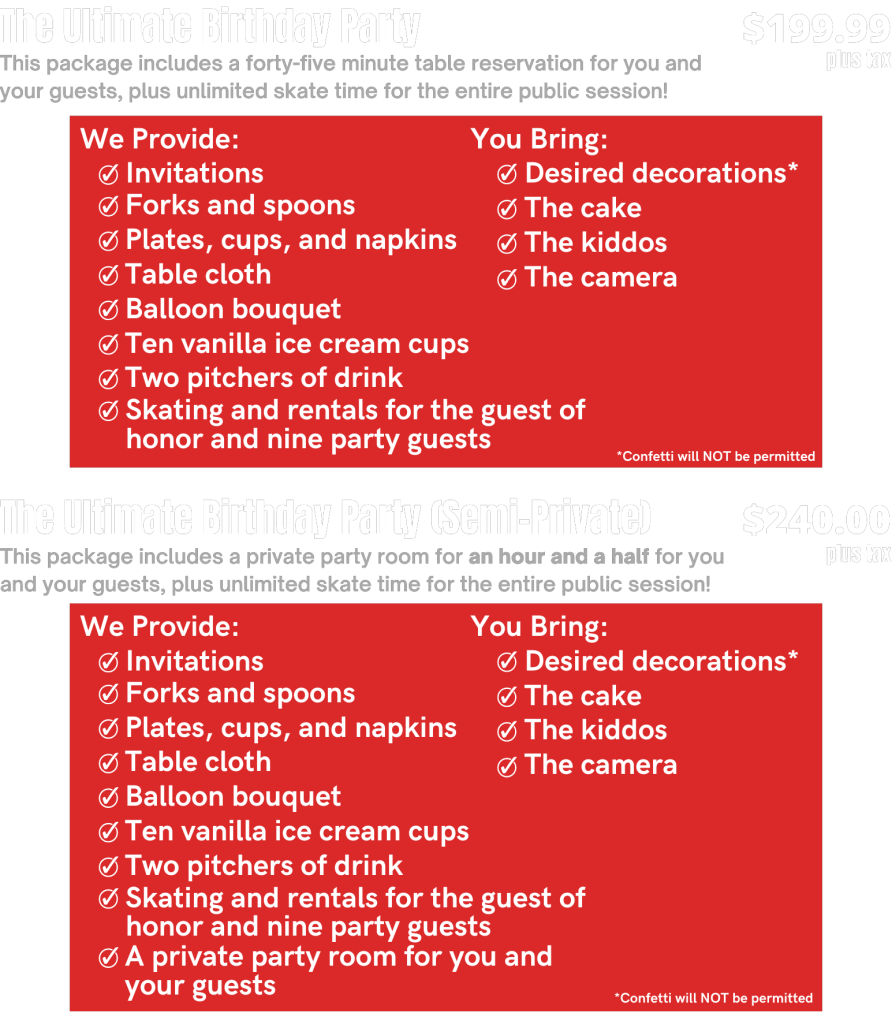 What should I expect during a public birthday party?
During a public birthday party, you can first expect to check in at our admissions window! Let us know that the party parents and guest of honor have arrived. We will go ahead and check in any guests that have arrived with you, grab your drink order, and confirm any pizza orders! Once checked in, if your reserved table is ready, you will be seated, otherwise we will be happy to hold any party supplies until the reservation has begun.
We recommend having all of your birthday guests in the building at least thirty minutes prior to your reserved table time to ensure no one is left out for cake and ice cream! Table reservations cannot be extended day-of due to tardiness.
Once your party time has begun, guests will be called off the floor to the party table where a dedicated party hostess will have drinks, ice cream, and any ordered food ready for celebration!
At the end of your reservation, guests can return to the rink floors and enjoy the rest of session! The designated party hostess will happily assist in carrying any gifts or food to a new table and take care of all the clean-up.
Questions or concerns? Prefer to book over the phone? Call (501)227-4333 to speak with our office manager Tamara any time Monday through Friday from 8:00am to 3:30pm!
---
Looking for something more private? Check out our private birthday party packages.